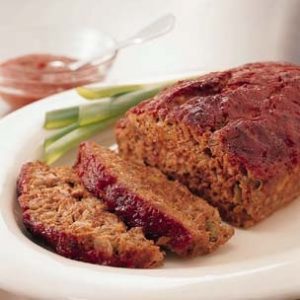 Meatloaf
5 oz  lean ground beef
1  small foil loaf pan
Seasonings of choice (sea salt, pepper, garlic powder, onion powder, whatever else desired)
Try adding one of Walden Farms dressings; such as Hickory Barbeque Sauce, Asian Sauce.
Season meat. You can either add barbeque sauce to meat or to the top of loaf toward the end of cooking.
Preheat oven to 350°.  Put meat into loaf pan. Using a wooden spoon, punch holes into the loaf, from top to bottom. Bake for 15 mins. Pour off any juice that has collected. Bake another 15 mins. Check to see if cooked through and through. Pour desired sauce over top of loaf and into holes. Increase oven temp to 400° and make for another 5-10 mins to brown further.