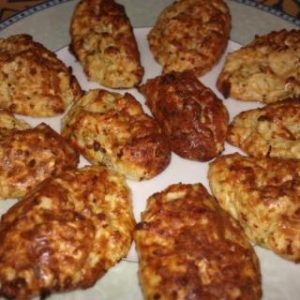 Ingredients:
2 cups shredded cauliflower (3 cups cauliflower florets will yield about 2 cups shredded)
2 egg whites (beaten)
½ tsp baking powder
1 tsp Pizza herbs (oregano, basil, marjorum, thyme)
Optional: ½ package Splenda
Directions: 
Preheat oven to 410 degrees F.  Grate cauliflower into bits that look similar to rice.  Beat egg whites well, but not stiff.  Add herbs, spices and baking powder and mix.  While mixing, add a bit at a time to the cauliflower.  (It should be able to hold together when scooped onto a baking sheet and not be runny- if you add too much and it is runny, place "tots" in a cupcake pan sprayed with olive oil instead of the baking sheet)  Place baking paper on baking sheet.  Scoop out balls of the mixture and form into tater tots.  Bake at 410 for 20 minutes (longer depending if you want a little extra crunch!).  Enjoy as is, or dip in Walden Farms Ketchup!
Serving size: 1
Count:  
1 oz. dinner protein
3 cups select vegetables
image source: www.ideallyyou.ca